Vandaag heeft onze voorzitter Fons Scheltema een vruchtbare dag gehad in Doorn. Gesprekken met commandanten, nieuw WJB lid én de laatste punten op de i gezet bij het Veteraneninstituut.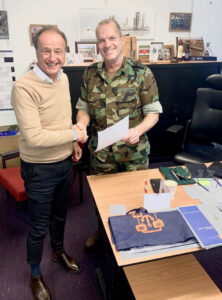 Een mooie dag in de Van Braam Houckgeestkazerne in Doorn waarbij de voorzitter meerdere gesprekken heeft gehad om actief dienende en oud officieren te verbinden met elkaar en bruggen te bouwen naar de burgermaatschappij. Er is uiteraard veel besproken, genoten van 'de blauwe hap met kippekak' en bovendien ook nog even gecheckt wie van de aanwezigen nog geen lid van de WJB is. Want ja, zoals CKM brigadegeneraal Jan Hut het ook vertelde tijdens het Korpsdiner, ga niet met Scheltema in gesprek want hij laat je niet los voordat je lid bent. Met enige trots kunnen we dan ook melden dat KOLMARNS Harro de Vries vanaf vandaag WJB lid is. Welkom Harro bij onze club!
Omdat het Nederlands Veteraneninstituut nagenoeg om de hoek ligt, hebben we gelijk even alles afgestemd ter voorbereiding voor onze Spring borrel die woensdag op 12 april plaatsvindt. Zo'n 70 WJB leden en gasten komen voor de eerste meeting na de Studiedag vorig jaar weer bij elkaar. Een hoog reünie gehalte, met daarbij ook iets om van elkaar te leren. Als gastspreker zal oud officier der mariniers en oorlogscorrespondent Aernout van Lynden aanwezig zijn en ons gaan vertellen over Bosnië. Hij heeft in het verleden als correspondent de hele oorlog meegemaakt. LTKOLMARNS Geoffrey Rellum zal als moderator optreden.
Wil jij op het laatste moment nog aanhaken, meld je aan via de site, of stuur een mail naar secretariaat@korpsmariniers-wjb.nl. Je bent als actief dienend of oud officier van harte welkom!