Aangezien Ed Richelle in het land aanwezig was, werd er van de gelegenheid gebruik gemaakt om op korte termijn weer een reünie van ARO-klas 19 te organiseren in de "Goede Goojer" in Blaricum, welke zo langzamerhand onze vaste reünie stek begint te worden.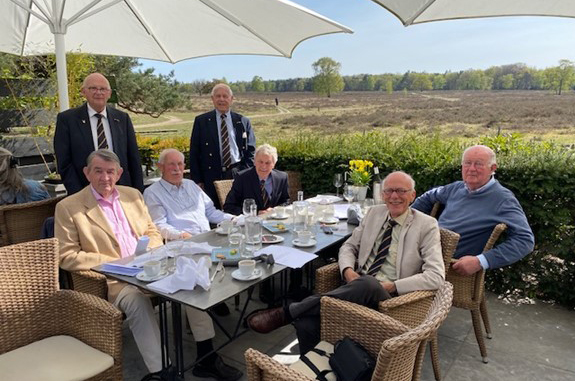 Door de korte termijn planning waren een aantal klasgenoten helaas niet in de gelegenheid om deel te nemen. Jan Tesselaar is meestal afwezig aangezien hij in Canada woont, Peter de Pagter verbleef juist nu op zijn vaste vakantie-stek in Zuid Afrika. Afzeggingen van Jos Vissers, Willem van Till en Freddie Textor. Ook Jaap de Boer en Peter Voogd moesten wegens persoonlijke ziekte of ziekte in de familie het laten afweten. En ook Roy Spiekerman, "geadopteerd" door ARO-19, had al andere afspraken in zijn drukke agenda. Desondanks waren we toch nog met zeven man present.
De reünie werd gekenmerkt door mooi weer waardoor we heerlijk buiten op het terras in de zon konden genieten van het prachtige uitzicht over de heide.
Willem Rooseboom, "tulis" van ARO-19, bracht verslag uit over zijn bemoeienis bij de heruitgave van het boek "De marinierskant van het verhaal" geschreven door Kolonel de Roos, destijds Commandant Mariniers Nieuw Guinea.
De Activiteiten Commissie (VKT commissie) van WJB heeft het plan om begin september een evenement te organiseren ter herinnering aan het staakt-het-vuren-overeenkomst, bekend als de New York-overeenkomst, die de overdracht van West-Nieuw-Guinea aan de controle van Indonesië in 1963 vergemakkelijkte, en welke op 15 augustus 1962 door de Nederlanders en de Indonesiërs werd ondertekend.
Het is de bedoeling dat het bovengenoemde boek tijdens dit evenement ten doop wordt gehouden en het eerste exemplaar zal worden uitgereikt. Overigens is het nog niet zeker dat het boek onder dezelfde titel zal worden uitgebracht of onder een andere aansprekende titel.
ARO-19 leverde de laatste KMR-officieren die hebben gediend in voormalig NNG en zij zijn in feite de laatste KMR-officieren die actief aan gevechtshandelingen hebben deelgenomen. Hierdoor gedreven heeft ARO-19 besloten de uitgave van dit boek financieel te sponsoren.
Staand van links naar rechts: Ruud Hendriks, Jim Enters
Zittend van links naar rechts: Ron Goossens, Willem Rooseboom, Ed Richelle, Ton van Exel, Sander Gijsberti-Hodenpijl