WJB lid Hans Heyda heeft dit jaar een managementboek uitgebracht 'Maak van je team een Eenheid'. Het boek is geschreven in samenwerking met psycholoog Franke Jongsma. Gezien de goede recensies op meerdere verkoopsites en van onze leden een aanrader.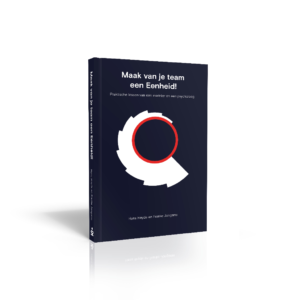 Om ongeschonden terug te keren na een levensbedreigende missie, om een innovatief project op tijd en binnen budget op te leveren of om leiding te geven aan een veranderproces is het niet voldoende om een team te zijn. Je moet een eenheid zijn: één met jezelf, je team en de omgeving. Om een eenheid te worden kom je uit je comfortzone. Je stelt je kwetsbaar op, voert het 'echte' gesprek en vertrouwt elkaar blind. Durf jij het aan?
Dit boek geeft antwoord op de vraag: Hoe wordt mijn team een eenheid? Hiervoor brengen Hans Heyda en Franke Jongsma drie verschillende werelden samen, die van de marinier, de psycholoog en de praktijk. De lessen in eenheidsontwikkeling zijn getoetst en aangescherpt in zowel profit- als non-profitorganisaties. Dit boek is een 'must read' voor iedereen die met zijn of haar team een unieke opgave wil realiseren. 
Met een voorwoord van de commandant Korps Mariniers, Brigadegeneraal der mariniers Jeff Mac Mootry.
'Maak van je team een Eenheid' – ISBN 978-94-92528-22-3